by Christer Tholin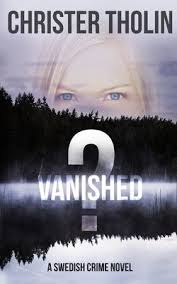 Vanished is a mystery thriller with a Scandanavian setting and a sleuth who is thrown in at the deep end. When a German lawyer goes on retreat in Sweden, he becomes concerned by the sudden disappearance of his vacation home neighbour, who has captivated him with her charm and her sparkling blue eyes. Visiting her property on the promise of a date, he finds her missing, then he himself is incapacitated and left bound in the garden shed. His curiosity piqued, he pairs up with a Swedish PI to investigate just what happened to his beguiling neighbour.
The premise is unusual – a missing person, a mystery, and a hero who really has nothing to gain by pursuing the perpetrators except for the promise of the woman with blue eyes, and a curiosity about what happened to him and why.
A caution about the first chapter of this book – I found it was a little difficult to get through. It is necessary that the reader remind themselves that this is in fact a translation of the original German to English. The translator has perhaps been unable to render a direct translation and has inserted additional prepositions to compensate in places that may on first read seem redundant.
Ignoring that, the story is interesting, fast paced and you feel like you are getting a roller coaster ride for your money. As thrillers go this one has suspense and a convoluted plot which is not overly complicated by gimmicks, and it keeps the reader engaged. Martin's attempts to help the woman of his dreams provides with reader with glimpses of all that Northern Europe has to offer as he travels between the various locations in Sweden and Germany.
The opening is a little slow but the book accelerates and is a satisfying read, with an ending that could leave room for more, but which is complete on its own. The protagonist grows on you as the book progresses and by the end you want to see him succeed. The writer's love and knowledge of Sweden shines through, from the crisp air of the north to the bright colourful buildings of Stockholm. A light thriller with a solid 3.5, maybe even a 4 star score.
Favorite Quote: "The land that the houses stood on had been left in its natural state, with the trees and bushes almost as dense as the forest. As was the norm in Sweden, there were no fences here. It was anyone's guess
as to where one property began and the other ended…"
Favorite Character: Lars
Score: 3.5 stars – recommend reading